MS-5005
HDMI 2.0 Generator / Analyzer
4K2K60 4:4:4 8bit, 4K2K60 4:2:0 16bit HDR pattern generator 4.3」 touch panel
Supports mouse control
Supports user control device through Ethernet
Firmware update through USB Flash Drive
Supports user defined pattern up to 2GB
Embedded LINUX KERNAL system with limitless extension
Scrambler supported for videos over 340MHz output wise
Loop test capability to provide statistics analysis for connection stability
Supports HDMI loop through function
HDCP test allow verify HDCP of HDMI source and transmit HDCP encrypted video
Qualified physical layer performance to ensure the best compatibility
Battery powered for portability, it can extend operation time with full load up to 4 hours
Rechargeable battery design with short charging time about 2 hours.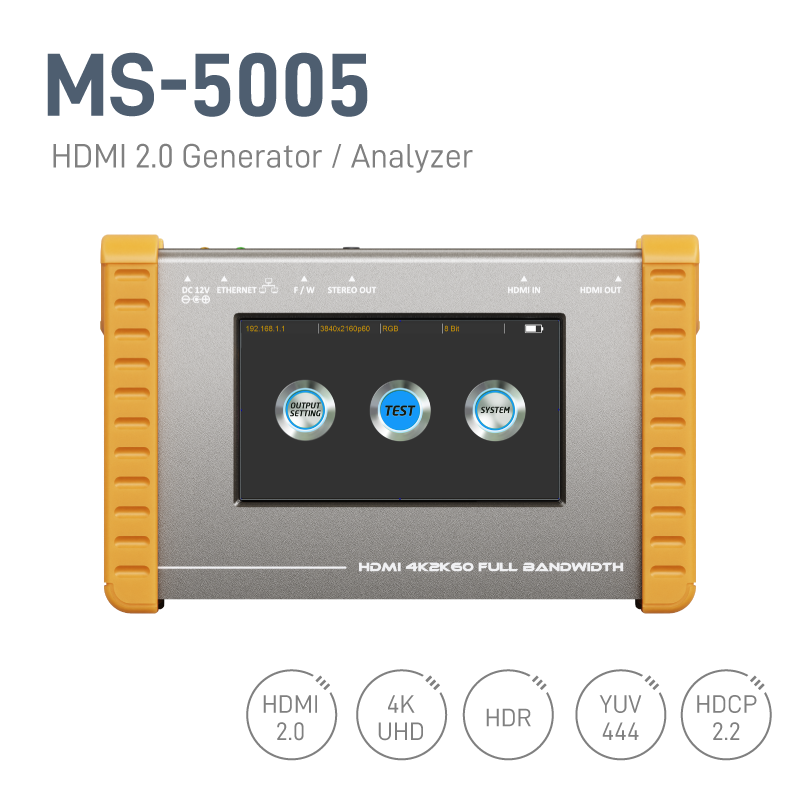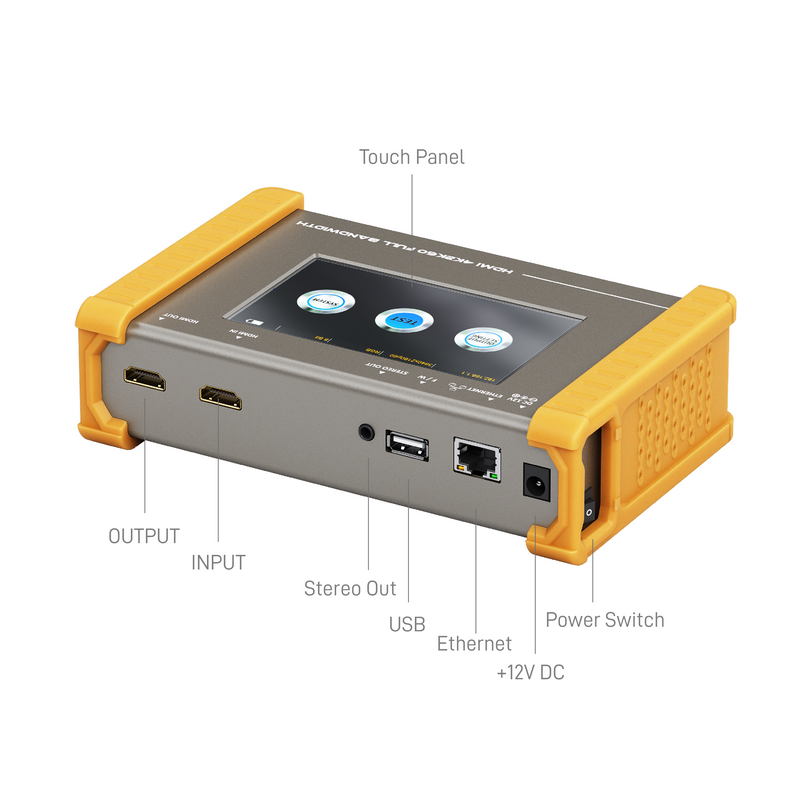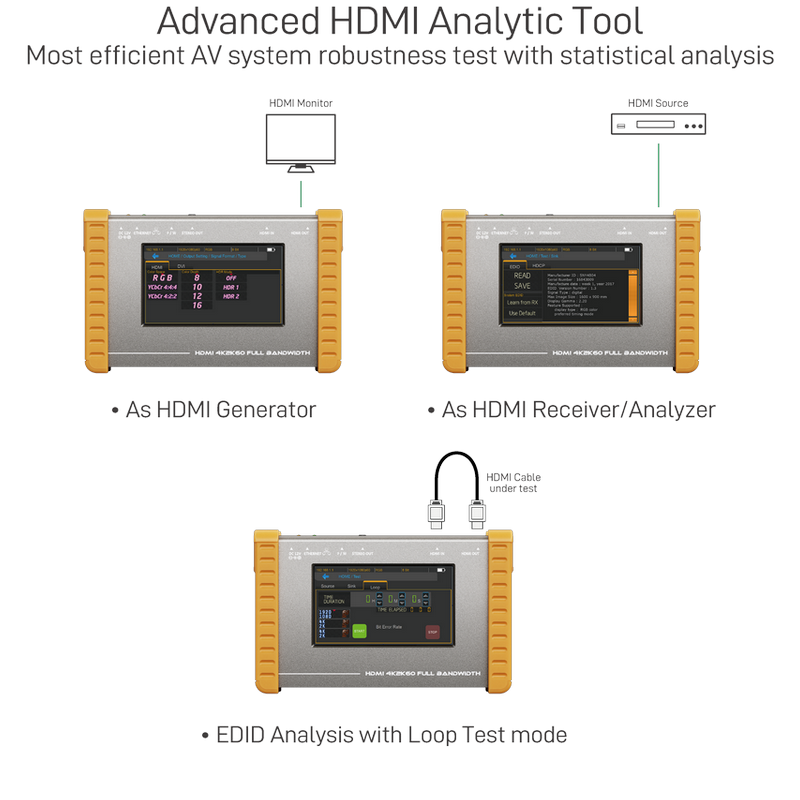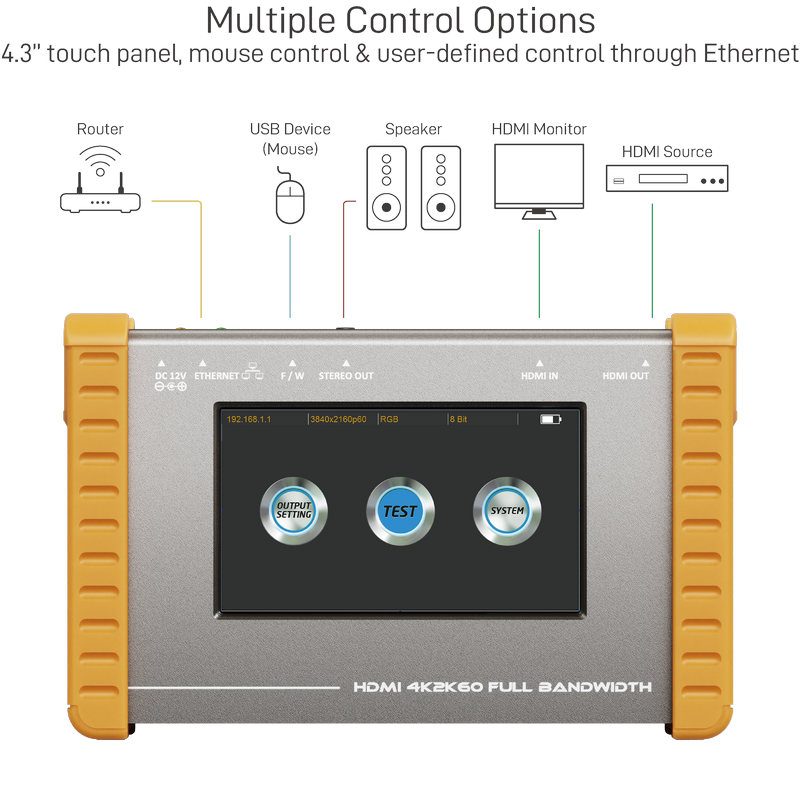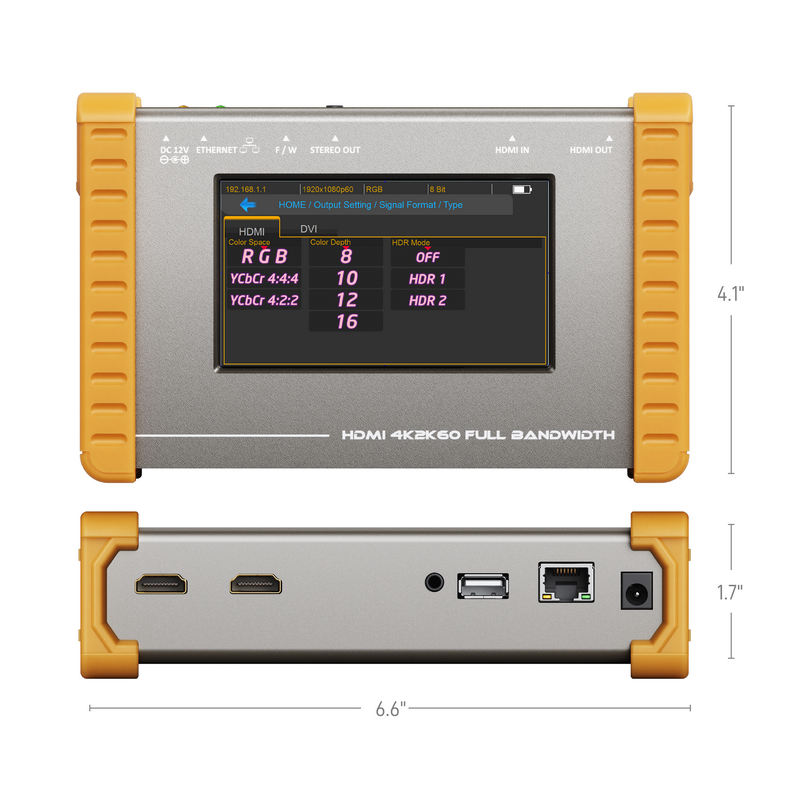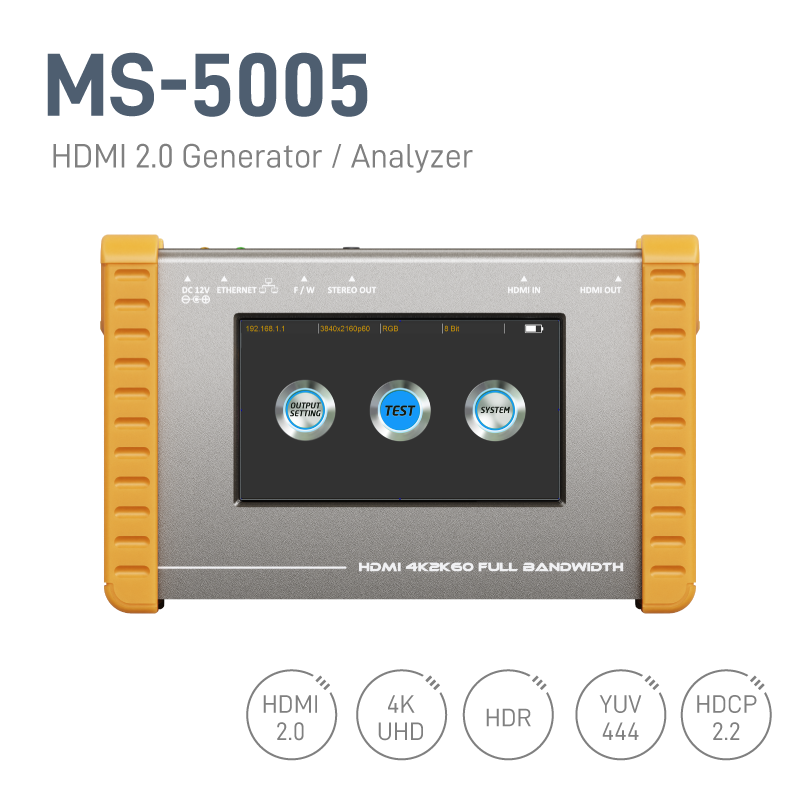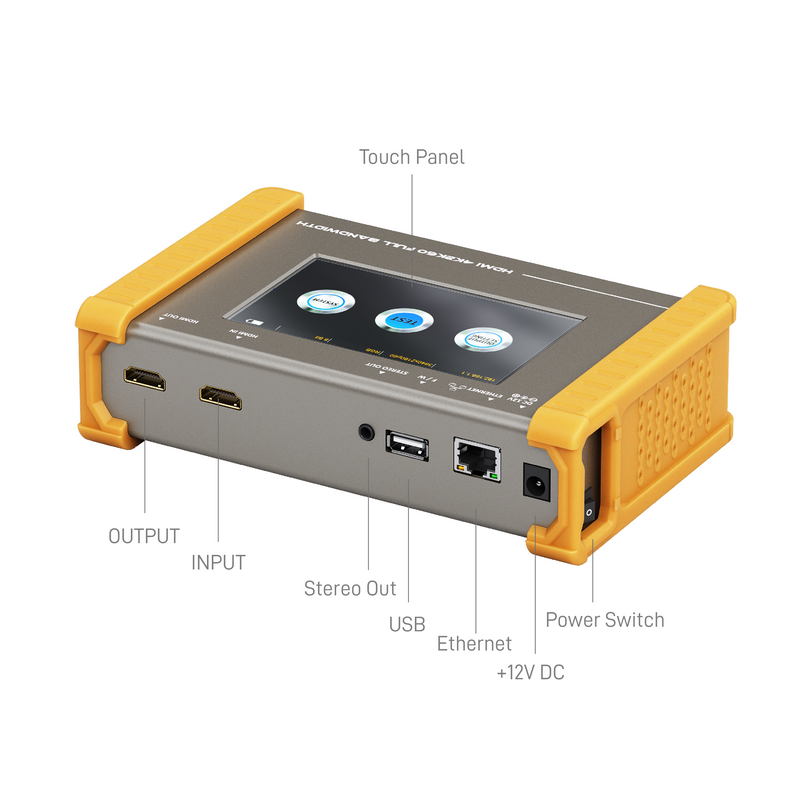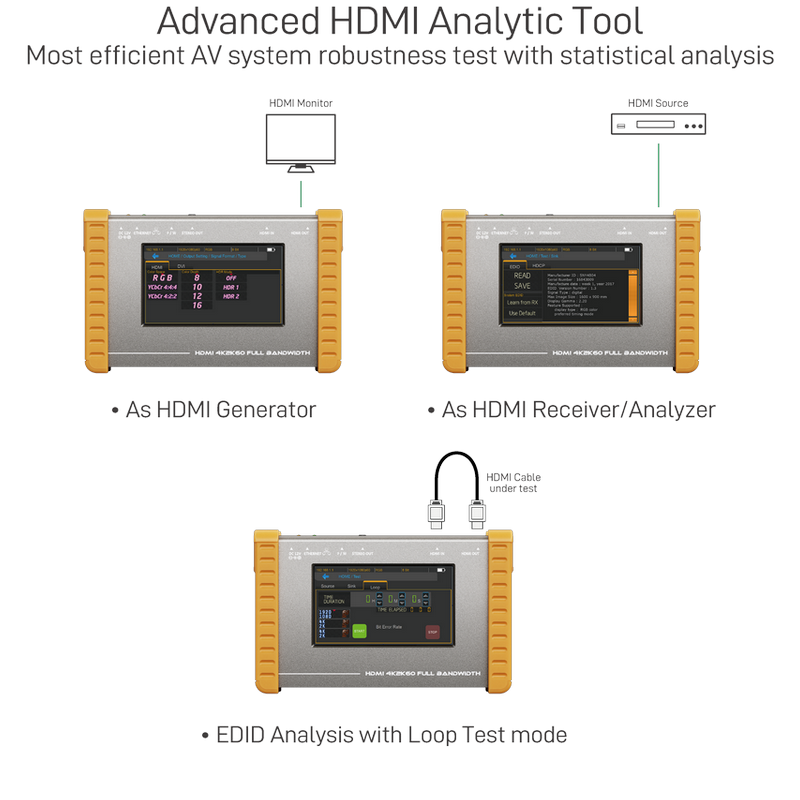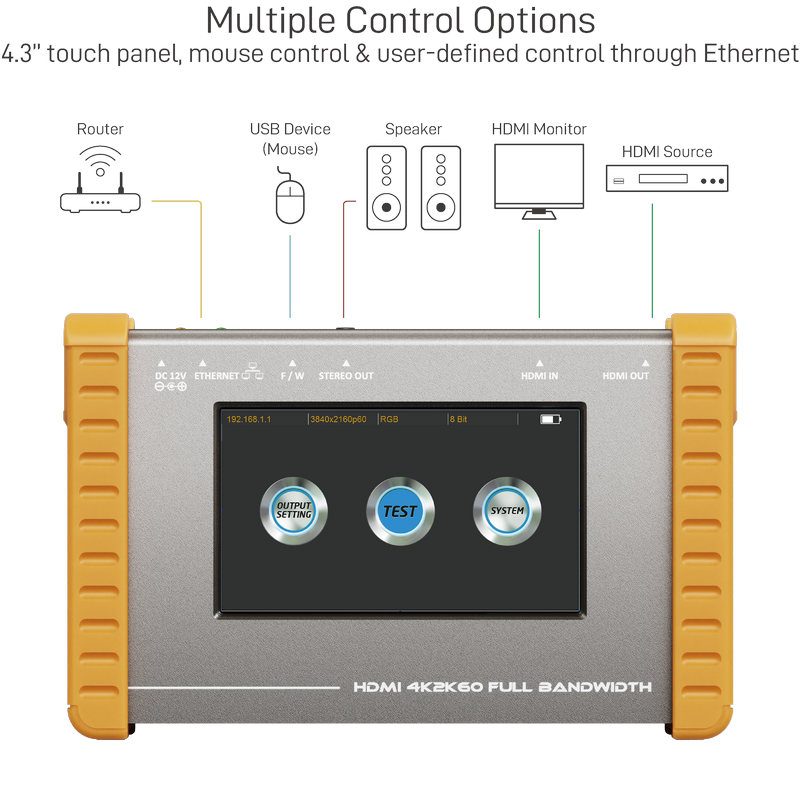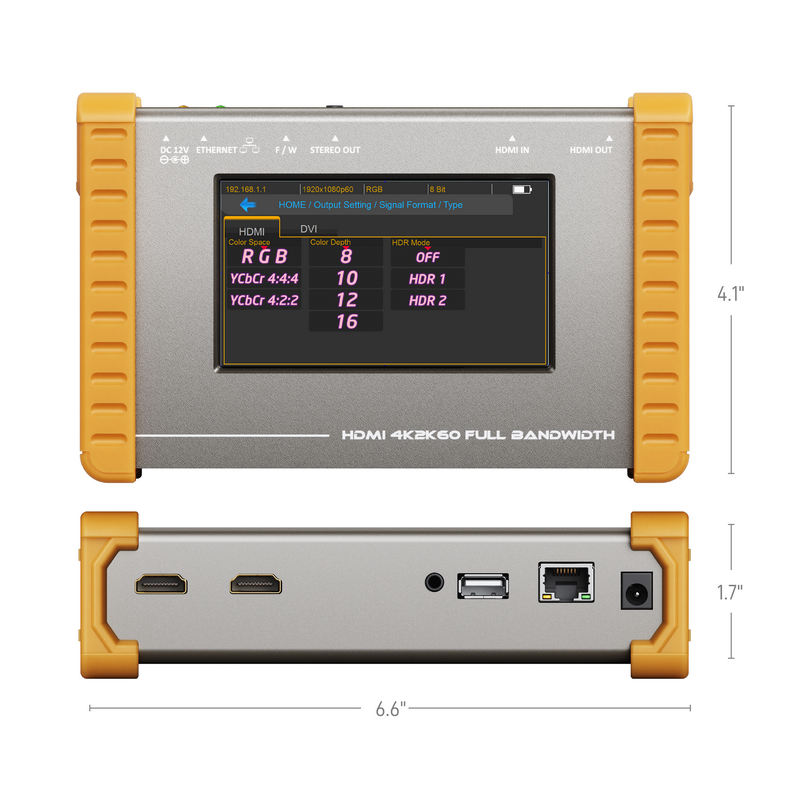 Overview
The GoMax MS-5005 is a high-performance HDMI battery operated (rechargeable) HDMI 2.0 / HDCP 2.2 test pattern generator. This device comes loaded with useful features and benefits. It has the ability to act as an HDMI monitor that supports resolutions all the way up to 4K60 UHD 4:4:4, making this an ideal solution for signal verification, checking correct bandwidth, HDCP, resolution, timing, HDR metadata and rule out possible options that could cause system hiccups when troubleshooting during installations. Additionally when configured as a Test Pattern Generator it can provide digital HDMI outputs supporting the latest in HDMI 2.0a compatibility with HDR (High Definition Resolution). There is an audio output provided for up to 8-channel @ 192K, as well as output video patterns with adjustable timer and moving squares. This unit boasts up to 18Gbps of bandwidth.

Being a must-have tool for every installer or system integrator the analyzer can perform system level "loop test" acting as both source and sink to test repeaters, extenders and cables. It comes with a universal power supply but is also battery-powered that can work up to 4 hours continuously on a single charge. Various tests such as HDCP and EDID are also provided. Additionally this device will support Ethernet TCP/IP device control, user defined pattern up to 2GB, HDMI loop through function for testing cable stability, and Scrambler support for videos over 340 Mhz.
SPECIFICATIONS
Technical
Max. Resolution

4K2K@60 (4:4:4—8bits)
4K2K@60 (4:2:0—16bits)
Audio Support

Supports 8-channel LPCM audio with selectable sample rates
ESD Protection

8 KV—Contact Discharge
15KV—Air Discharge
Mechanical
Battery

Built in - 7000mAh
Power Connection

non-locking Barrel
Power Consumption

15 watts (Max.)
Operating Humidity

20-90% RH
(no condensation)
Operation temperature

0~40°C (32~104°F)
Product Weight

0.7kg (1.68 lbs)
Package Weight

1.3kg (2.85 lbs)
Certifications

CE, FCC, RoHS